The EcoLEDs 50-LED PAR30 white spotlight is an energy-efficient replacement for PAR30 light bulbs. It's part of our more affordable line of LED lights based on first-generation LED technology (using a large number of smaller LED components rather than a single, high-end LED component like our 10-watt LED light bulb).
Using about 1/12th the electricity of a 40-watt light bulb, this 50-LED PAR30 white spotlight reduces CO2 emissions by 3,800 pounds over its life (50,000 hours of operation, compared to a 40-watt incandescent bulb). It also produces almost no excess waste heat, and runs at a cool 115 degrees (F), which is cool enough to touch, even after hours of operation.
This light is RoHS certified, meaning it adheres to strict European guidelines concerning the Reduction of Hazardous Substances. Contains absolutely no mercury (like fluorescent lights do). Operates on both U.S. voltage (110v AC) and European voltage (220 - 240v AC), no special voltage adapters required.
Benefits summary:
$190.00 in electricity savings over its life (compared to a 40W incandescent bulb)
3,800 pound reduction in CO2 emissions
Reduces landfill by 50 light bulbs
Contains no mercury like compact fluorescents
The EcoLEDs 50-LED PAR30 spotlight is a directional light perfect for use in recessed lighting, down lights, light cans or other directional light applications. It is the same size and shape as a typical PAR30 bulb, but slightly heavier due to the use of more dense, higher-end components. It is weather resistant and can be successfully used outdoors, even in high humidity environments (as long as it is not directly exposed to rain).
Keep in mind that the total power output of this LED light is very small (less than 3 watts). This is typically not considered sufficient light power for a desk lamp or indoor light. It is very useful, however, in a shed, greenhouse, garage or an outdoor light you leave on all the time. For indoor use, we recommend more powerful bulbs such as our 165-LED PAR38 bulb or our 10-watt LED bulb.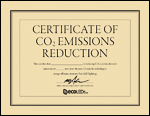 This LED light comes with a Certificate of CO2 Emissions Reduction that allows you to publicly display your commitment to reducing CO2 emissions through the use of energy-efficient lighting products. Quality and workmanship are backed by a 1-year warranty and a 30-day satisfaction guarantee.
This light offers an exceptional value in today's LED light marketplace, delivering far more light for your dollar than competing lights sold on the internet. However, it is not nearly as impressive as our 7-watt or 10-watt lights which use second-generation LED components and produce brighter, more focused light beams. Yet this light does what it promises: It produces bright white light with outstanding energy efficiency and very long bulb life. It is far superior to incandescent light technology and contains no mercury like fluorescent lights. It's a great choice for those who want to save electricity but want something more affordable than our premium LED lights.